NJPW New Japan Cup 2018 Results: Round 2 Winners, Grades from March 14
NJPW New Japan Cup 2018 Results: Round 2 Winners, Grades from March 14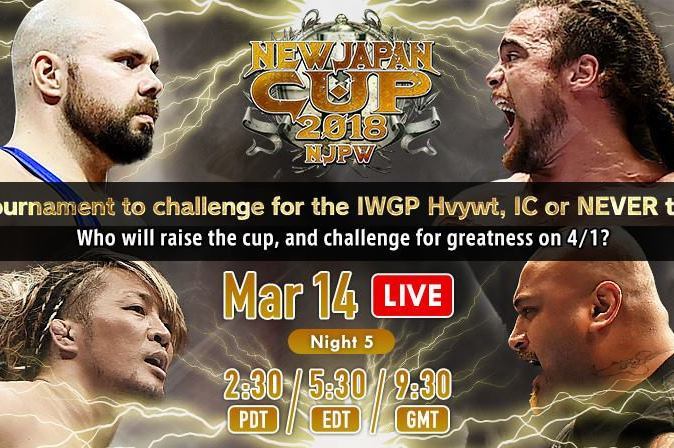 NJPW New Japan Cup 2018 Results: Round 2 Winners, Grades from March 14
0 of 8
Credit: New Japan Pro Wrestling

The quarterfinals of the New Japan Cup were upon us Wednesday, when four world-renowned competitors battled for the right to challenge for a title of their choosing on April 1.

Juice Robinson looked to continue his impressive run as he squared off against former tag team partner Michael Elgin in a match between two wrestlers fans stateside should be familiar with.

Robinson, a former NXT star, and Elgin, a former Ring of Honor world champion, looked to tear the house down and advance to the round of four.

Hiroshi Tanahashi won his first New Japan Cup match in years in Round 1 but would have to overcome the oppressive strength and size advantage of Bad Luck Fale to advance again.

Elsewhere on the card were IWGP heavyweight champion Kazuchika Okada, Kota Ibushi, IWGP intercontinental champion Minoru Suzuki and IWGP junior heavyweight tag team champions El Dorado and Yoshinobu Kanemaru, rounding out a much better show than Monday's.
Tetsuhiro Yagi and Ryusuke Taguchi vs. El Desperado and Yoshinobu Kanemaru
1 of 8
IWGP junior heavyweight tag team champions El Dorado and Yoshinobu Kanemaru kicked off Wednesday's show, battling Ryusuke Taguchi and young lion Tetsuhiro Yagi.

Yagi found himself at the mercy of the champions for the majority of the bout, beaten down and pummeled by the heels until a dropkick allowed him to create separation and make a hot tag to Taguchi.

Taguchi exploded into the match and had the champions reeling, using a hip attack to great effect.

Yagi tagged back into the match and despite a flurry of offense, fell to a spinebuster and tapped out to give Dorado and Kanemaru the victory.

         

Result

Kanemaru and Dorado defeated Yagi and Taguchi

           

Grade

C

             

Analysis

Yagi was impressive here, creating drama late as he nearly scored a pinfall victory over Dorado with a small package in a hot near-fall.

Taguchi was a burst of energy off the hot tag, but in the end the babyfaces could not secure the win over the top heavyweight tag team in New Japan right now.

A suitable opener if nothing else.
Six-Man Tag Team Match
2 of 8
Shota Umino, Tomoyuki Oka and Yuji Nagata battled Ren Narita, Toa Henare and David Finlay in a Six-Man Tag Team match in Wednesday's second contest.

Finlay and Umino started the match for their respective teams, engaging in some chain wrestling to start.

Narita tagged in for his team and almost immediately found himself on the receiving end of a beating courtesy of Nagata as the opposition seized control and worked over the young lion.

Finlay tagged back in and squared off with Nagata, trading counters and reversals until a backbreaker put the veteran down. An exploder suplex by Nagata cut Finlay off, though, and led to Umino and Henare throwing rights and lefts at each other.

Umino, on fire, scaled the ropes and delivered a missile dropkick to his opponent for a close two-count. He applied a cross armbreaker but was nearly rolled up and had to break it.

Henare answered with a big clothesline that preceded a Samoan Drop to earn the young star and his teammates the victory.

              

Result

Henare, Finlay and Narita defeated Nagata, Oka and Umino

           

Grade

C+

              

Analysis

Henare has raw ability and an in-ring energy about him, so it was nice to see him finally pull off a victory rather than staring at the lights once again.

With that said, it was Umino who was most impressive here, bringing an explosiveness to the match that helped its overall quality. While he still needs polishing, as do all of the young lions, he has the potential to be a star of the future.
Tanga Loa and Yujiro Takahashi vs. Davey Boy Smith Jr. and Lance Archer
3 of 8
Former IWGP heavyweight tag team champions Davey Boy Smith and Lance Archer both experienced disappointing defeats in the New Japan Cup, but they came together once more Wednesday to regain momentum for themselves as they battled Bullet Club's Tanga Loa and Yujiro Takahashi.

The action spilled to the outside early, with the powerful brawling of the big men no match for Loa and Takahashi.

Smith paired off with Loa to start laying into him with heavy forearms and brushing off a shoulder block.

The former champions completely overpowered their opponents, dominating the competition and wearing them down, utilizing isolation to keep them apart.

A dropkick and headscissors by Loa allowed him to finally make the tag to Takahashi, who exploded into the match and delivered a big running bulldog to Archer. He hung Smith up on the top rope and launched himself over the same rope and onto the second-generation star.

Archer and Smith recovered and ended the comeback attempt, pinning Takahashi with the Killer Bomb.

         

Result

Archer and Smith defeated Takahashi and Loa

            

Grade

C

               

Analysis

This was all Killer Elite Squad as Archer and Smith dominated for the majority of the match, relenting only when their opponents mustered a half-hearted comeback.

Considering Loa is part of the NEVER Openweight Six-Man Tag Team champions with Bad Luck Fale and Tama Tonga, it was interesting to see him absorb such a beating. Takahashi looked good in his brief comeback but ate another loss.
Chase Owens and Kota Ibushi vs. Taka Michinoku and Zack Sabre Jr.
4 of 8
Zack Sabre Jr. and Taka Michinoku looked to build on the former's momentum following his New Japan Cup victory over Tetsuya Naito as they battled the popular Kota Ibushi and Bullet Club's Chase Owens, a team looking to recover after a disappointing loss to Kazuchika Okada and Tomohiro Ishii Monday.

Ibushi and Sabre paired off to start, two of the best wrestlers in the world looking to methodically build the match from the onset. Ibushi caught his opponent with a stiff kick. Owens tagged in and landed a neckbreaker but could not maintain control as the heels began to boss the bout.

Sabre and Michinoku made frequent tags, wearing down Owens in hopes of weakening the already weak link of the team and scoring a win. Sabre, always thinking, kicked Ibushi off the apron and trapped Owens in a guillotine choke, hoping to put him away. A counter into a suplex by Owens earned him enough room to make the hot tag to his partner.

Ibushi erupted, a ball of energy taking his fight to the opposition.

He delivered a double overhead kick that stunned his opponents, then provided an intense combination of strikes to Sabre but tried a moonsault that landed him in the clutches of the dangerous submission wrestler. 

Ibushi tagged Owens, who squared off with Michinoku, before laying Sabre out ringside with a dive. In the ring, Owens delivered a package piledriver to the former WWE lightheavyweight champion for the win.

A cheap shot by Sabre to Ibushi after the bell ensured he stood tall anyway.

              

Grade

B

                

Analysis

The best match of the show to this point, it was fast-paced and never gave the viewer an opportunity to catch its breath.

Short, succinct and explosive, it showcased both Ibushi and Sabre well, while giving Owens the opportunity to build credibility for himself with a big victory over a celebrated athlete such as Michinoku.

Good use of all four stars and a nice preview of a potential Sabre-Ibushi match that could be fantastic.
Six-Man Tag Team Match
5 of 8
Chaos' Tomohiro Ishii, Chuckie T and Toru Yano teamed up in a Six-Man Tag Team match against Los Ingonerables de Japon's Bushi, Sanada and Tetsuya Naito.

Sanada scored a big New Japan Cup win over Chuckie T and looked continue his winning ways here. They paired off early in the match, with Sanada gaining the upper hand after well-timed interference from Naito.

The heels picked Chuckie apart, cutting him off from his opponents and beating him down. A missile dropkick, though, allowed him to make a tag to Ishii, who wasted little time taking the fight to the heels like the Stone Pitbull he is.

Yano and Sanada tagged in and engaged in a roll around the ring, culminating in a near-fall for Sanada.

Bushi tagged in and launched himself off the top rope with a missile dropkick that downed Yano. The official got in the way, though, and Yano delivered a low blow, pulled Bushi's shirt over his head and rolled him up for a big win.

           

Result

Yano, Chuckie T and Ishii defeated Sanada, Bushi and Naito

              

Grade

C+

                

Analysis

There was not much to this one.

The best workers were barely involved. Instead, the focus was primarily on Yano and his tricky victory. Yes, he needed it given he is still in the New Japan Cup, but with Sanada, Naito and Bushii involved, one cannot help but think one of them probably should have gone over here.

An energetic match if nothing else.
Six-Man Tag Team Match
6 of 8
In the third and final Six-Man Tag Team match of the night, IWGP heavyweight champion Kazuchika Okada teamed with NEVER openweight champion Hirooki Goto and Yoshi-Hashi to face Taichi, Takashi Iizuka and IWGP intercontinental champion Minoru Suzuki.

Suzuki attacked Okada during introductions, igniting a brawl that would give way to Yoshi-Hashi and Taichi squaring off. Wild and chaotic, it was only a matter of time before the match spilled into the stands again, with the heels brawling with the more popular Chaos trio.

Yoshi-Hashi found himself in an unenviable position, cut off from his partners and on the receiving end of a relentless attack by his opponents. A big back body drop to newly promoted heavyweight Taichi, though, turned the tide in his favor and allowed him to make the tag to Goto.

A brief exchange between Goto and Taichi gave way to a showdown between Suzuki and Okada, recalling the attack at the bell earlier in the match.

Suzuki locked in a leg bar on his opponent, who was lucky enough to reach the ropes and necessitate the break of the hold.

The action broke down and the heels triple-teamed Okada, Iizuka going as far as to choke the heavyweight champion out with athletic tape. Goto saved his partner from defeat but Okada was still noticeably hampered by the injury inflicted by Suzuki while in the leg bar.

He still managed to recover and trap Iizuka in a cobra clutch to score the submission victory.

               

Grade

B+

                 

Analysis

This was the best tag match of the last two nights, thanks to the ruthlessness of the heels, the resilience of Okada and the stories told throughout it.

Taichi was nicely spotlighted here, a young star management clearly has big plans for.

The triple-teaming of Okada by Suzuki and company was a great spot that built drama. Would Okada be able to shake it off and win another big match coming from behind or would he succumb to the knee injury dealt him by the intercontinental champion?

Option one, as it turns out.

A fun, energetic six-man tag that highlighted the right wrestlers and featured the face of the promotion going over in the end. 
New Japan Cup Quarterfinal: Michael Elgin vs. Juice Robinson
7 of 8
Popular babyface Juice Robinson squared off with former Ring of Honor world champion Michael Elgin in the first match of the second round of the New Japan Cup Wednesday.

Early control by Elgin was offset momentarily by the trademark jabs of the NXT alumnus, but a big scoop slam by Elgin cut him off. Robinson answered back with a dive to the floor that wiped the big man out.

A back-and-forth battle ensued, neither man really gaining a sustained advantage over the other. A superplex by Elgin, though, popped the crowd and brought him as close to victory as he had been to that point.

Robinson brilliantly fought out of a piledriver but left himself open to a double underhook powerbomb, which Elgin utilized for another near-fall. Big Mike continued his attack, utilizing his strength, but the fiery Robinson would not succumb. He fought back with clotheslines, only to be tossed across the ring with a nasty-looking suplex.

Showing the heart that has made him such a popular star in New Japan, Juice weathered the attack and continued to kick out.

It was that resiliency that allowed him to hang around just long enough to score the upset win over Elgin, much to the shock and dismay of the big man.

The competitors showed each other respect after the bell.

        

Result

Juice Robinson defeated Michael Elgin

       

Grade

B+

        

Analysis

Robinson may be the easiest wrestler to emotionally invest in during this tournament.

Yes, Tanahashi is in the midst of a redemption run of sorts, but Robinson is the personification of The Little Engine That Could. He keeps going no matter what is thrown at him and, more importantly, creates such sympathy with his use of body language and facial expressions.

This was a strong match that was enhanced by the storytelling of the wrestlers involved.

Robinson winning was the right call and should give fans outside of Japan someone to root for as the tournament enters the semifinal round.
New Japan Cup Quarterfinal: Hiroshi Tanahashi vs. Bad Luck Fale
8 of 8
The main event of Wednesday's show pitted the massive one-third of the NEVER openweight six-man tag team champions Bad Luck Fale against the legendary Hiroshi Tanahashi.

Fale overwhelmed the veteran early, brawling with him to the arena floor, then utilizing his size and strength to keep the faster and smarter competitor at bay.

Tanahashi fought his way back into the match, leaving the big man reeling. Fale responded, though, again using that power and his strikes to ground Tanahashi.

Tanahashi again recovered and mounted a comeback, utilizing the Sling Blade to down Fale and draw a pop from the fans.

As the action spilled to the arena floor, Tanahashi sent Fale into the guardrail and into the crowd. Alert, he rolled back into the squared circle and scored the count-out victory.

           

Result

Hiroshi Tanahashi defeated Bad Luck Fale via count-out

             

Grade

B

                

Analysis

Fale was the unstoppable force who cut Tanahashi off at every turn. He was bigger, stronger and should have won. What he was not, though, was smarter.

Like the match before it, this featured a resilient babyface withstanding the onslaught of his opponent just long enough to take advantage of an opening and win the match. Some will take exception to the fact that it ended via count-out, but the finish allows Fale to maintain his aura without eating a pinfall or submission loss while Tanahashi advances to the semifinals of the tournament.

A good match to end the show on but not quite up to the level of its predecessor. 
Breaking Sports News
via Bleacher Report – Front Page http://ift.tt/yO6Sgr
March 14, 2018 at 07:16AM