Nick Foles Trade Rumors: Cardinals Reportedly Made Call for Eagles QB
Nick Foles Trade Rumors: Cardinals Reportedly Made Call for Eagles QB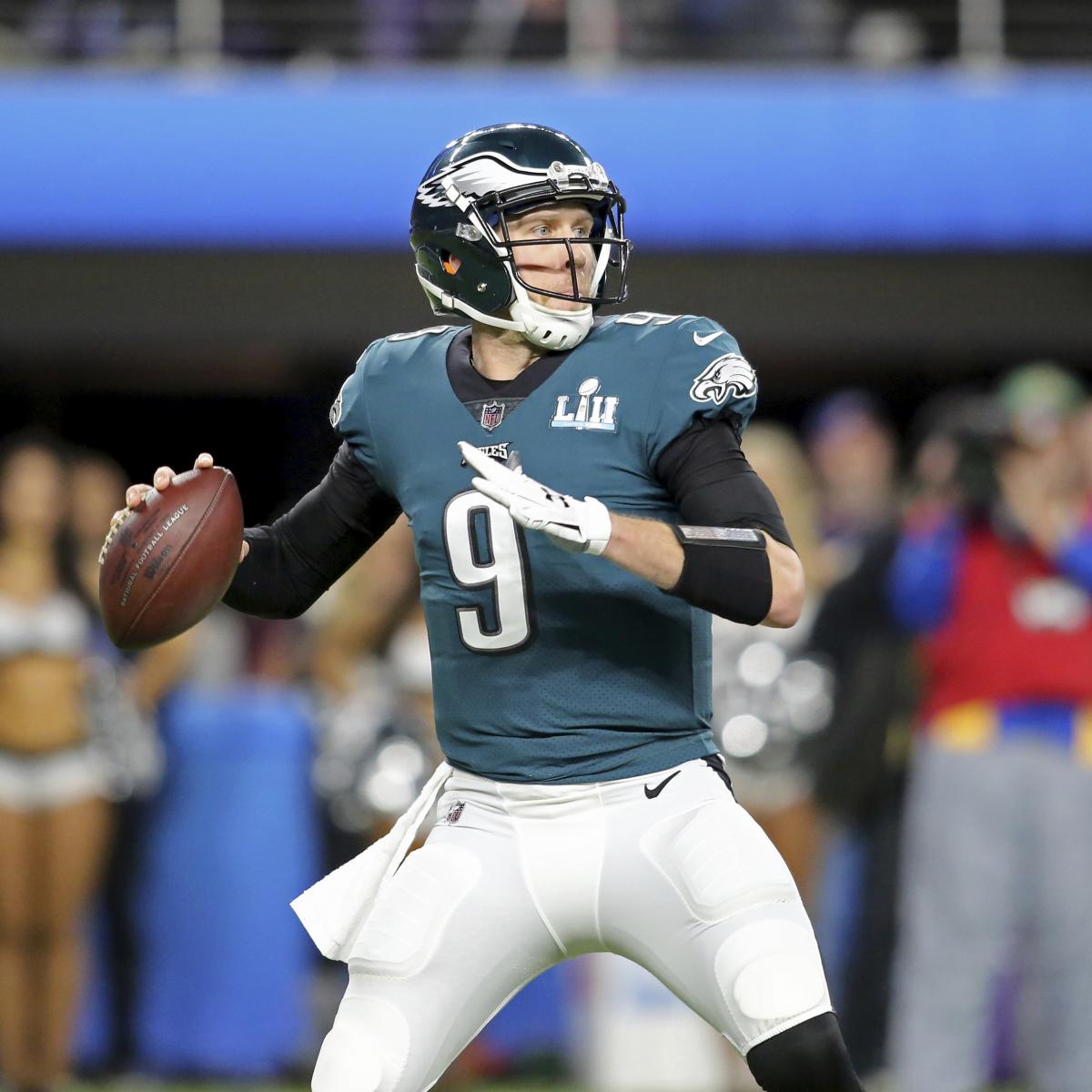 Gregory Payan/Associated Press
As the Arizona Cardinals searched for Carson Palmer's replacement, they checked in on the status of a Super Bowl MVP.
Per NFL Network's Mike Garafolo (h/t Fox Sports' Peter Schrager), the Cardinals called the Philadelphia Eagles to inquire about Nick Foles:
Mike Garafolo @MikeGarafolo

Right around the time the Cardinals were working on the Bradford deal, which sounds like it came together quickly. https://t.co/SMxDzwqYWd
Arizona didn't land Foles, but it reportedly did get a quarterback…or two. According to ESPN's Adam Schefter, former Minnesota Viking Sam Bradford intends to sign with Arizona, and NFL Network's Tiffany Blackmon reported ex-Chicago Bear Mike Glennon will sign with the Cardinals.
Foles, of course, became a valuable asset to Philadelphia last season when he stepped in for an injured Carson Wentz and led the Eagles to their first Super Bowl championship. The sixth-year pro completed 72.6 percent of his passes during the postseason while throwing for 971 yards, six touchdowns and just one interception in three games.
Leading his team to a 41-33 upset of the New England Patriots with 373 yards and three touchdowns earned him the Super Bowl LII MVP award.
Although Foles' NFL career has featured both highs and lows, Philadelphia's asking price for its backup quarterback—who will have a salary of just $4 million in 2018—is said to be high. ESPN's Chris Mortensen reported in early March the Eagles are looking for more than the first- and fourth-round picks they got for Bradford in 2016. 
Instead of surrendering the draft pick(s) Philadelphia wanted, Arizona went out and reportedly signed a quarterback who was once traded for Foles. Not only that, but they also appear to have landed a second passer as well—and all without giving up any picks.
Breaking Sports News
via Bleacher Report – Front Page http://ift.tt/yO6Sgr
March 14, 2018 at 03:53PM