Kick It Out 'very worried' by rise in hate crime
Kick It Out 'very worried' by rise in hate crime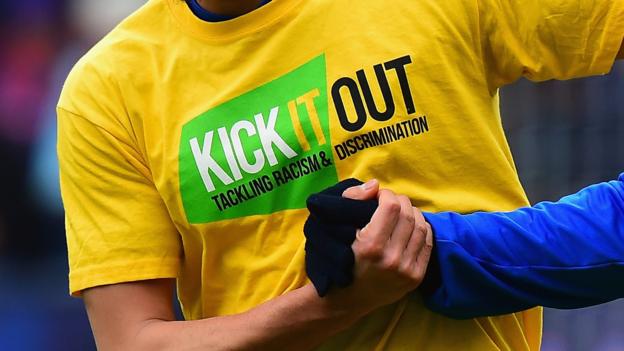 The "massive increase" in hate crime in football is "very worrying", Kick It Out chief executive Roisin Wood says.
The anti-discrimination body has received 282 reports halfway through the 2017-18 season, compared to 177 this time last year.
If these figures double, as they have done for the past five years, there could be more than 500 cases reported for the first time in one season.
"It's very worrying for us there is such a rise," Wood told BBC Sport.
"We all have to work together – police, crime prosecution service, football and society – in trying to tackle that."
Taking into account incidents at grounds and on social media, there has been a 59% increase in cases of discrimination across England's top four leagues as well as in the top four tiers of non-league football and the grassroots game.
The number of hate crimes in England and Wales increased by 29% in 2016-17, according to Home Office statistics, and Wood added: "When there is a rise in hate crime in society, you get it in football.
"When there is a rise of homophobia, a rise of anti-Semitism and a rise of racism, you see that all reflected in football."
Kick It Out found that racism was the most common form of discrimination in this year's mid-term report, followed by HBT (homophobia, biphobia and transphobia) and anti-Semitism.
So far this season, 46% of the discrimination incidents have occurred at professional games, 39% were on social media and 15% in the grassroots game.
Bournemouth defender Tyrone Mings has previously criticised social media platforms for making it "too easy" for racism to take place online after he received abuse on Twitter.
Wood said: "Discrimination on social media is particularly virulent, and is particularly targeted.
"It is massively on the rise because what people might not say on the street or in the stadium, they will say on Twitter because of the anonymity involved in that."
Kick It Out, which published the figures, acknowledged that football authorities have made it easier to report such incidents, which can be done through the organisation's website.
Soccer News
via BBC Sport – Football http://ift.tt/OHg7x6
March 14, 2018 at 06:39AM