Analysis: 'The lowest point under Wenger – but he has held firm'
Analysis: 'The lowest point under Wenger – but he has held firm'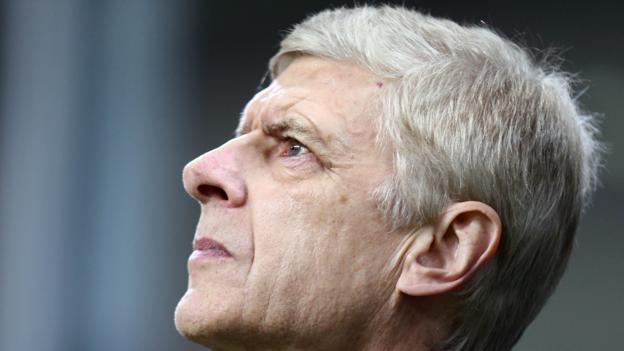 Whatever Arsenal's fans think about Arsene Wenger, they have to get behind the team on Thursday and help them try to win the Europa League.
It would be complete nonsense for any of their supporters at Emirates Stadium to hope they lose their last-16 tie against AC Milan just because it might mean Wenger leaves.
For the Gunners, this season is not really about the manager now – it is about restoring pride with some performances and trying to win a cup competition, something they have been good at in recent years.
After an awful few weeks, when I felt the club reached their lowest point under Wenger with two heavy defeats by Manchester City and then a loss to Brighton, Arsenal's past two performances have been a lot more positive.
They have been digging themselves out of a hole for the past few days and continuing their progress in the Europa League after beating Milan 2-0 at the San Siro in the first leg is the best way for them to keep doing that.
That competition is their only chance of success this season and I can understand why they are among the favourites – for potential winners, it is hard to look past them and Atletico Madrid.
Europa League last 16 second-leg fixtures
Fixture
Score from first leg
Lokomotiv Moscow v Atletico Madrid
0-3
Athletic Bilbao v Marseille
1-3
Dynamo Kiev v Lazio
2-2
Viktoria Plzen v Sporting Lisbon
0-2
Zenit St Petersburg v RB Leipzig
1-2
Arsenal v AC Milan
2-0
RB Salzburg v Borussia Dortmund
2-1
Lyon v CSKA Moscow
1-0
Arsenal are not past Milan yet, of course, and they will also need a favourable draw if they are to make it to the final at Stade de Lyon on 16 May.
Talking as a fan, not just a former player, if they were to win the Europa League and get back in the Champions League that way, and if that meant Wenger was there for another two or three years, I would be quite pleased.
But there would also have to be a dramatic improvement from Arsenal in the Premier League next season, because that simply has to happen.
At first, their decline was about fourth place for them, then fifth – now it is sixth. They have been going backwards for far too long.
Wenger has reacted well to intense criticism
There are quite a few reasons for Wenger to be positive again at the moment. My opinion about his side's chances of winning the Europa League definitely changed after the way they played in Milan last week.
Going into that game at the San Siro they were under a lot of scrutiny and it seemed like every man and his dog had an opinion on them and what was going wrong.
I don't think it is easy when you are having to deal with that amount of criticism.
It could easily have affected the confidence and self-esteem of the players, and even the manager's belief in himself – but I was impressed with the way they all reacted to it.
Wenger definitely deserves some credit because he has been unwavering throughout this extremely difficult period. He has faced some tough questioning and it has been quite an examination of his managerial ability.
He dealt with it by remaining balanced and consistent in his behaviour.
It was alarming the way Arsenal's performance level dropped off a cliff after after they lost the League Cup final, and the display in their defeat at Brighton was particularly concerning.
But Wenger has recovered from that in the space of a week. The analogy he used after the Brighton game was that they were naked and needed to put their shirt back on, and their last two results mean they are wearing trousers again too.
Now let's see what the next few weeks bring because they have to maintain this improvement. Wenger will not be worrying about himself, though, he will just be focused on getting the team the results they need.
The fans will have a part to play too. I don't know what the attendance was for Sunday's win over Watford but it was a long way off capacity.
The same thing happened against City the previous week, and it seems that the fans are not coming to the league games at the Emirates anymore.
What Arsenal want against Milan is a full stadium and a positive atmosphere but we don't know whether they will get it. If the fans don't turn up for this game either, then that is a concern for Wenger.
Wenger is still learning, and so are his players
Wenger has said before that you become a better manager in adversity and even he is still learning at the age of 68, because in more than 21 years at the club he has never been in this situation.
It is the same for the players – these are the times you learn about yourself and how you respond.
Personally, whenever that kind of criticism was looming large, I could not wait for the next game to start. I would be bursting to get out on the pitch to do my job, and I think I have seen that from the Gunners in the past two games.
It seems the players now have got real, and have understood the situation they are in.
I was not sure whether that would happen because the environment Wenger likes to work in is a calm and pleasant one, and I sometimes wondered if it had become too nice.
I am not talking about Wenger not pushing his players enough, but he has made trusting his players the basis of his management for years and a big part of that was giving players their head, rather than a regimented approach.
But I think now he seems to have wrested control back and the team have got some direction again.
Make Wilshere captain and build around him
Aaron Ramsey and Jack Wilshere played a key part in Arsenal's win in Milan and the Gunners need a repeat performance from them on Thursday.
Both have contract issues to resolve, but I don't see them being as big an issue as Alexis Sanchez and Mesut Ozil were, and I also don't see things getting as toxic as the Sanchez situation became.
With Ramsey and Wilshere, these are essentially two Arsenal boys who want to stay at the club. I think they will both sign and I think Arsenal should be making Wilshere club captain and building the club around him.
It is the same with Ramsey – he is another player they should be desperately trying to keep hold of, and I am sure they are.
The Wales international seems to divide fan opinion on how effective he is is, and it is true that he can leave his midfield team-mate isolated when he plays deep if he does not pick the right moments to go forward.
Wenger was clever against Milan, though, because he played Granit Xhaka in the holding role, with Ramsey and Wilshere around him. Wilshere was even playing off the front at times, so there is a lot of flexibility in that particular midfield line-up.
Games started by Ramsey and Wilshere together in all competitions since 2008 – and Arsenal's record in them
Season
Games played together
Record
2008-09
3
W2 D0 L1
2009-10
4
W2 D0 L2
2010-11
5
W1 D2 L2
2011-12
0
2012-13
12
W4 D5 L3
2013-14
16
W10 D2 L4
2014-15
10
W3 D5 L2
2015-16
0
2016-17
0
2017-18
2
W1 D0 L1
It has always seemed that Wilshere and Ramsey could not be played in the same team, but Wenger has found a way to make that work, which is a really promising development – and a very attacking move too.
Wenger has talked recently about being pragmatic but I think what he meant there was returning to his philosophy. When most managers talk about the basics, it usually means being hard to beat, but for Wenger, the basics are to attack – something they did brilliantly against Milan.
I think he will do the same at the Emirates – he will not sit back and invite them on.
And if he plays the same team he did at the San Siro then it is set up to attack and go for the jugular again.
I am expecting a better performance from Milan because they seemed quite nervous in the first leg, but Arsenal have done the hard work already.
They are at home, where they have a good record this season, and they also have enough big-game players to see this tie through.
Martin Keown was speaking to BBC Sport's Chris Bevan.
Soccer News
via BBC Sport – Football http://ift.tt/OHg7x6
March 14, 2018 at 11:33AM