Olympic Figure Skating Schedule 2018: USA Primetime TV Start Time, Live Stream
Olympic Figure Skating Schedule 2018: USA Primetime TV Start Time, Live Stream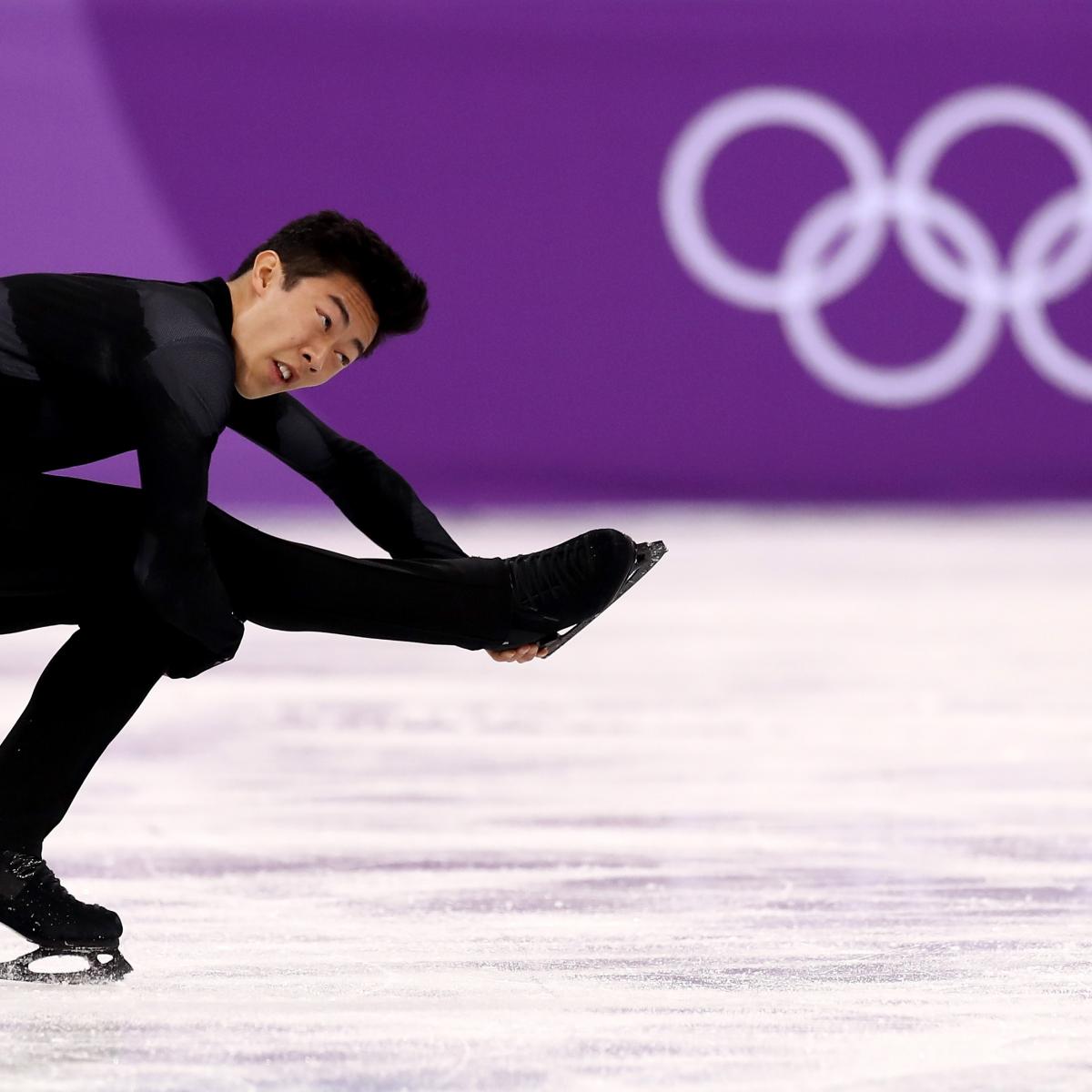 Ronald Martinez/Getty Images
Nathan Chen's quest for the men's figure skating gold begins on Thursday night (Friday morning in Pyeongchang, South Korea).
The 18-year-old American is facing stiff competition from a pair of Japanese skaters, including defending Olympic champion Yuzuru Hanyu, who skipped the team event unlike the other gold-medal favorites.
Two other Americans, Adam Rippon and Vincent Zhou, are set to perform on Thursday, but neither skater is seen as a favorite to medal.
The men's competition starts with the short program on Thursday before the free skate takes place on Friday at the Gangneung Ice Arena.
Date: Thursday, February 15 (Event occurs on Friday, February 16 in Pyeongchang, South Korea)
Time: 8 p.m. ET
TV: NBC
Live Stream: NBCOlympics.com
Chen Attempting to Rebound from Team Event
On the first night of figure skating in Pyeongchang, Chen committed a few errors in a short program that was supposed to serve as a warm-up for the men's competition. 
The Salt Lake City native, who didn't compete in the free skate portion of the team event, talked about fixing the errors from a week ago in a press conference on Thursday, per Ramon Padilla and Maggie Hendricks of USA Today. 
"Training has been going great," Chen said. "Just working out issues that I was dealing with during the short program, as in where I need to be thinking in terms of prepping the jumps. Things have been cleaning up. With all the training I've been putting in, I'll be able to have a pretty good short program."
Chen will be the 26th skater to hit the ice on Thursday night, with Hanyu featuring in the spot before him in the lineup.
David J. Phillip/Associated Press
With the defending Olympic champion skating minutes before him, there's more pressure on Chen to revive his short program from the team event and prove he is capable of winning the competition.
Chen is going to have stare his nerves square in the face and show everyone in Pyeongchang, and those watching at home, that his short program from a week ago was nothing more than a blip.
When he is at his best, Chen is one of the top male figure skaters in the world, partly because of his ability to land quads in both of his routines. Look for the 18-year-old to unleash at least two of the ambitious jumps in his short program.
If everything goes well for the top American medal hopeful in the competition, he'll be in position to perform from one of the last positions in the free skate, which could lead to a masterful display of skill on Friday, including up to five quads.
Hanyu Set to Make Pyeongchang Debut

While most of his competitors were preparing for the men's competition with performances during the team event, Hanyu was on a plane to Pyeongchang. 
The 2014 Olympic champion didn't arrive in South Korea until after the event began, and his health is a bit of an unknown after he suffered an ankle injury in November. 
Hanyu hasn't skated in a competition since his injury occurred, which adds even more intrigue to Thursday's showdown in the short program. 
JUNG YEON-JE/Getty Images
Despite the lingering issues around his ankle, Hanyu is coming into the men's event with a good amount of confidence, per Elaine Lies of Reuters. 
"I am confident that if I skate cleanly I will definitely win," Hanyu said.
Just like Chen, Hanyu is no stranger to quads, and the effectiveness of the jump that features four spins in the air will let us know how healthy the 23-year-old Japanese skater is.
If he goes out on the ice and puts together a routine that garners a high score, it will put pressure on Chen and other medal hopefuls like Japan's Shoma Uno, Canada's Patrick Chan and Spain's Javier Fernandez.
Uno, Fernandez and China's Jin Boyang are slated to skate after Hanyu and Chen, with Jin delivering the final performance of the short program.
Even if he comes up short on one of his quad attempts, all Hanyu has to do on Thursday is earn a mark that places him within striking distance of first place.
As long as that occurs, Hanyu should skate with a ton of confidence in the free skate as he attempts to become the first repeat winner in the men's competition in 66 years.
Follow Joe on Twitter, @JTansey90.
Statistics obtained from Olympic.org.
Breaking Sports News
via Bleacher Report – Front Page http://ift.tt/yO6Sgr
February 15, 2018 at 09:34AM