Can a Rookie, a Re-Charged Rubio and 'Aussie Curry' Push Jazz into Playoffs?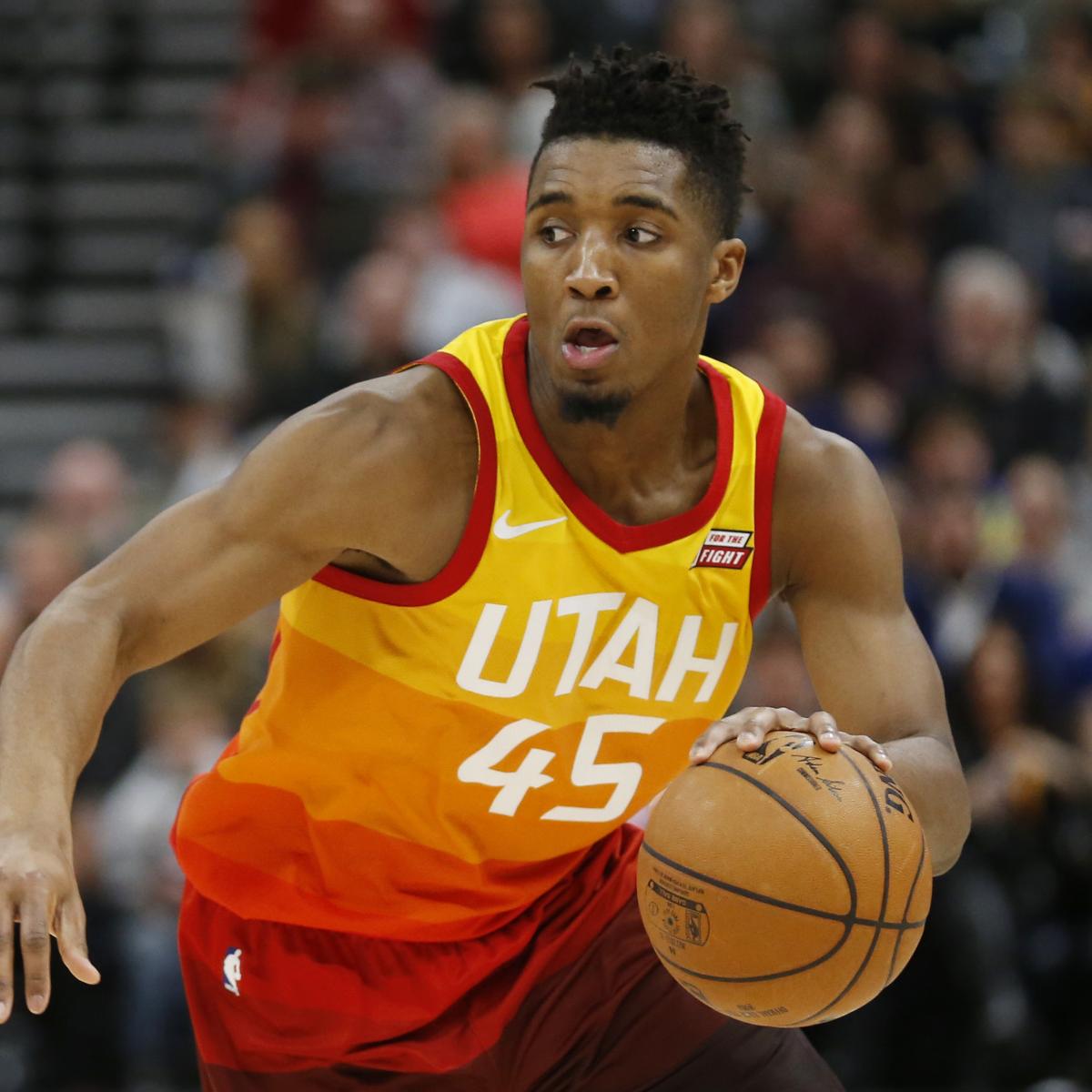 Rick Bowmer/Associated Press
On January 22, the Utah Jazz walked into Philips Arena to face the then-13-32 Atlanta Hawks. Utah walked out with a loss and a 19-28 record.
"There were times where we looked like we didn't want to play, myself included and that's not us, that's not our identity," rookie guard Donovan Mitchell said after the dud in Atlanta, per Eric Woodyard of The Deseret News. "We've just got to come out with more life and more energy and I think if we play the way like we play here it will be a lot of nights like this."
The Jazz haven't lost since that night.
The 10-game winning streak that started two days later has included seven victories on the road. Among those seven are wins over the Toronto Raptors, San Antonio Spurs, New Orleans Pelicans and Portland Trail Blazers. At home, Utah blasted the defending champion Golden State Warriors by 30 and pushed the streak to double-digits with a 13-point fourth-quarter comeback against the Spurs.
Utah isn't just winning. It's winning against good teams and generally doing it comfortably. From January 23 until now, the Jazz are outscoring opponents by 15 points per 100 possessions, per NBA.com. That's the best net rating in the league over that span. And they've gone from comfortably in the lottery to pushing for a playoff spot.
Just before the streak started, Jazz fans started tweeting #TankNote (a play on the team's official #TakeNote hashtag). Jazz blog SLC Dunk even whipped up a T-shirt in support of the cause. And the push wasn't without merit. After the loss to Atlanta, Utah was the same number of games from the worst record in the league (five) as it was from a playoff spot, per Tankathon.
After the unlikely streak, the now 29-28 Jazz are projected to finish sixth in the West by FiveThirtyEight, which also pegs the team's odds of making the playoffs at 89 percent.
Considering Utah is still outside the top eight, all this optimism may be a bit premature, but even being in the conversation for the postseason was unexpected as recently as two weeks ago. And it's worth considering how exactly the team got here. Mitchell is the obvious answer, and he'll have some space devoted to him here, but the rookie isn't doing this alone. Ricky Rubio's resurgence, Rudy Gobert's return, Joe Ingles' breakout and more are all ingredients.
Key Jazz Players During the Win Streak
Player
Points
Rebounds
Assists
True Shooting Percentage
Donovan Mitchell
21
4
3.6
.518
Ricky Rubio
18.9
5.4
7.6
.647
Joe Ingles
16.2
3.2
3.7
.768
Rudy Gobert
13.2
10.4
2
.596
Derrick Favors
12.3
8.5
0.6
.560
Royce O'Neale
7.9
4.8
2.3
.601
NBA.com/stats
A Grand Slam in the Draft
Melissa Majchrzak/Getty Images
Excuse the baseball metaphor. It just feels appropriate with Mitchell, whose father works in the front office of the New York Mets.
No one, even his most ardent believers in the Utah organization, could've seen this rookie campaign coming from the No. 13 pick.
Mitchell is averaging 19.5 points, 3.5 rebounds, 3.4 assists and 1.5 steals. There are only seven other rookies in NBA history who matched or exceeded all four of those marks, according to Basketball Reference. Here's the whole group, including Mitchell, sorted by Effective Field Goal Percentage: Michael Jordan, Mitchell, Larry Bird, Grant Hill, Tyreke Evans, Allen Iverson, Ron Harper and LeBron James.
Other than Mitchell, the lowest draft selection in that bunch belongs to Harper, who went eighth overall in 1986. Fringe lottery picks aren't supposed to do this. Heck, even Mitchell didn't expect it.
"I didn't think I was going to be drafted, to be honest," Mitchell said in January, per NBA.com's David Aldridge. "I'm so serious."
Looking back, that seems wild. Not only has Mitchell outperformed his own expectations and what most 13th picks do, he's seized national media attention in a way few Jazz players ever have. He's made a conversation of Rookie of the Year, which seemed like a foregone conclusion for Ben Simmons early in the season. He's become the unquestioned first option on a winning team. And he's dominating fourth quarters in a way most veterans can't.
Two wins back, Mitchell scored 10 points in the final 2:17 against the Blazers. On Monday, he dropped 11 in the final five minutes against the Spurs. His scoring average in fourth quarters is now up to 6.5, joint-eighth among players who've appeared in at least 10 fourth quarters. Kyrie Irving, James Harden and DeMar DeRozan are the only players in the league averaging more points per minute in fourth quarters.
"He's assuming a role in clutch situations, and it makes sense," Jazz coach Quin Snyder said in January, per NBA.com's Shaun Powell. "There's no sense in trying to pretend. He's the most capable player and so I'm not concerned if he's 19 or 25 or a rookie. There's no reason to wait. If they're capable of doing it, do it."
When Gordon Hayward and George Hill moved on to other teams this past summer, it looked like Utah might have to wait a while for another player who could "do it." The basketball gods, Mitchell or both decided Utah's fans wouldn't have to exercise too much patience, after all.
Team Basketball, Led by the Australian Stephen Curry
Cameron Browne/Getty Images
Mitchell has understandably garnered most of the coverage during Utah's sprint back to playoff contention, but depth, ball movement, moneyball and the Australian Stephen Curry shouldn't be undersold.
OK, that last one is a little tongue-in-cheek, but stay with me.
Ingles, who once called Curry, "the Joe Ingles of America," has been his typically solid self all season. But he's reached a new level during this streak. Over the last 10 games, he's averaging 16.2 points while shooting 57.8 percent from the field, 57.1 percent from three and 100 percent from the line. In the same span, Utah is a whopping plus-22 points per 100 possessions when Ingles is on the floor. It's plus-2.2 points per 100 possessions when he's not, per NBA.com.
And though his assist numbers are down a bit over the last 10, Jazz coach Quin Snyder clearly trusts Ingles' playmaking in big moments.
He went to the Ingles-Derrick Favors pick-and-roll over and over during Utah's comeback against the Spurs on Monday, as seen on KSL's Andy Larsen's timeline:
Andy Larsen @andyblarsen

The Jazz just abused the Ingles/Favors PnR at the end. Here's one where Gasol fouls Favors: https://t.co/n3HZcOSdq7
Andy Larsen @andyblarsen

Here Ingles holds his defender on his hip as he delivers the pass to Favors: https://t.co/JCX3a377mG
Andy Larsen @andyblarsen

And then the Spurs overplay it, so Favors gives the ball to Ingles cutting behind him, then gets it back and gets to the line: https://t.co/65EGBHuzzs
As the heading of this section suggests, though, this goes well beyond Ingles. Snyder seemingly trusts just about everyone on this roster.
Utah has had four different players lead the team in scoring for wins during the streak: Gobert, Mitchell, Rubio and Rodney Hood, now a Cleveland Cavalier. Ingles has set his career high twice, dropping 23 on the Charlotte Hornets on February 9 and 24 on the Blazers two days later. Royce O'Neale had a career-high 18 against the Spurs on February 3.
Mitchell generally gets the bulk of the shots for the Jazz, but the ball will find whoever is rolling on this team. And when shots are falling, you can almost see the positive energy spreading.
"Everything just seems to be clicking," Woodyard wrote after the most recent win over the Spurs. "Guys are having fun and are even spending time together. This Utah Jazz team is completely different from three weeks ago. Basketball is fun for them, and it shows."
Before the streak, Utah was averaging 21.0 assists per game. During the streak, that number is up to 23.5. The team's three-point percentage has gone from 36.4 pre-streak to 45.3 since.
New addition Jae Crowder noticed a difference in his first game in a Jazz uniform. "I love playing within a system," Crowder said after the win over Portland, per Basketball Insiders' Ben Dowsett.
It's a system where everyone gets an opportunity to handle the ball. Utah is joint-20th in seconds per touch, per NBA.com. Utah's leader in time of possession, Ricky Rubio at 5.9 minutes per game, is joint-16th in the league in that category. Crowder himself has an assist percentage of 10.0 in his two games with the Jazz, compared to 6.1 with the Cleveland Cavaliers, per Basketball Reference. Like everyone else on the roster, he's getting a chance to do things he might not be able to for other teams.
And the hope in Utah is that that will resurrect "Boston Jae Crowder."
"I'm getting back to having fun, playing the game the right way," Crowder told Kyle Goon of The Salt Lake Tribune. "It's just fun to be out there with a good group of guys that are so connected. They're just very connected and they've welcomed me since Day One. I'm glad to be a part of it."
It was that same sort of connection that made the Boston Celtics so dynamic under Brad Stevens, despite being short on traditional star power prior to this season.
In Cleveland, where it was more about fitting in around LeBron James, Crowder averaged 8.6 points while shooting 32.8 percent from three this season. He looked nothing like the guy who was 20th in Real Plus-Minus in 2016-17 and 26th in 2015-16.
If Crowder can get back to his old self playing this style of basketball, the midseason trade that cost Utah Hood and Joe Johnson—434th and 475th in Real Plus-Minus this season, respectively—will have been worth it. 
Giving him, as well as everyone else on the team, opportunities to shoot and create fosters a deeper level of engagement on both ends of the floor. And it seems to finally be leading to sustainable success for this group.
Can This Team Really Make the Playoffs?
Melissa Majchrzak/Getty Images
Prior to this season, there was tempered optimism over Gobert, Mitchell and Dante Exum. Hayward and Hill were gone, and there seemed to be a quiet acceptance that 2017-18 might be a transition year. Not a full-blown tank or rebuild, but certainly not the 51-win, first-round-victory year that 2016-17 was.
Then, Exum went down with a shoulder injury in the preseason. Gobert went down to knee injuries—twice. One of the most consistent players of the first two months, Thabo Sefolosha, was lost for the year with an MCL injury of his own. Things looked bleak.
But this unexpected run of the last few weeks has changed the outlook. According to TeamRankings.com, Utah has the fourth-easiest remaining schedule in the NBA. And as long as Gobert is on the floor, the Jazz should have a formidable defense (they allowed 100.6 points per 100 possessions when Gobert was in last season and have conceded 100.1 when he's in this season).
Could the ridiculously hot shooting cool off? Will it be a short honeymoon with Crowder? Will more injuries creep up? All these things are possible. But Snyder, like his mentors Gregg Popovich and Mike Budenholzer, has installed a system that almost seems to operate regardless of who's on the floor. The ball moves. Everyone is in the right spots on defense. And perhaps most importantly, everyone is engaged.
Tune into almost any Jazz game, before, during or after this streak, and you're likely to see five guys playing hard, cheered on by eight or nine more on the bench. In an era defined by numbers, the intangible things still matter. And they're spurring this dark horse toward the postseason.
Andy Bailey covers the NBA for Bleacher Report and FanRag Sports. You can find him on Twitter at @AndrewDBailey.
Unless otherwise noted, stats courtesy of Basketball Reference, NBA.com/stats and ESPN.
NBA News
via Bleacher Report – NBA http://ift.tt/yO6Sgr
February 14, 2018 at 07:56AM