NBA All-Star Game 2018 Rosters: LeBron vs. Steph Starters, Reserves and Analysis
NBA All-Star Game 2018 Rosters: LeBron vs. Steph Starters, Reserves and Analysis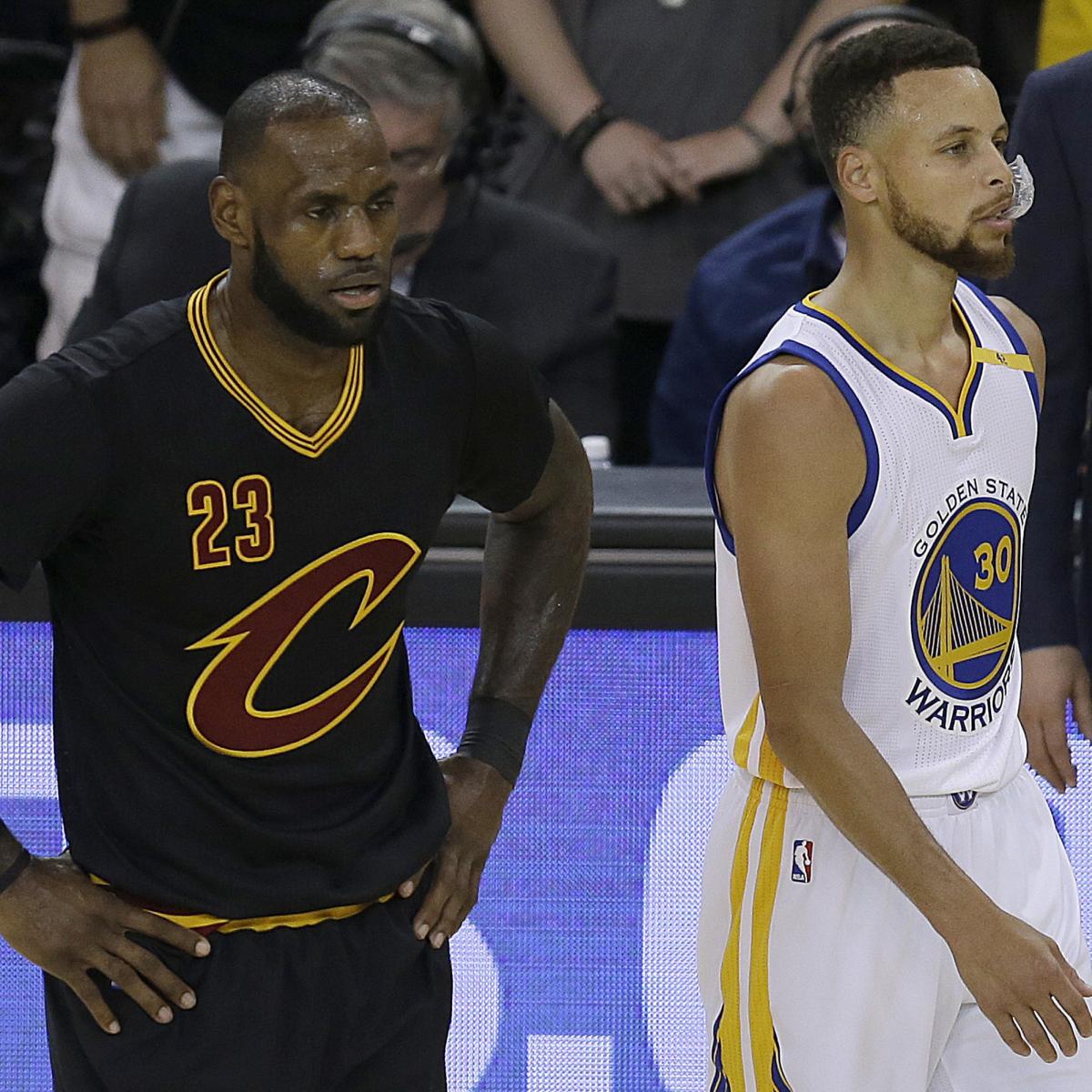 Ben Margot/Associated Press
With less than a week remaining before Sunday's 2018 NBA All-Star Game, captains Stephen Curry and LeBron James have locked in their rosters for the world's greatest pickup game.
As top vote-getters in their respective conferences, Curry and James were tasked with constructing their teams under the league's new format. Once fans, players and media picked 10 starters and coaches fleshed out the reserves, there was a (sadly not televised) draft to populate both teams.
NBA Commissioner Adam Silver has since chipped in with the selection process, as untimely attacks from the injury bug have reshaped the player pools.
While we're knocking on wood that no other medical issues reshape the field, let's examine both squads' starting units and bench brigades to highlight the strengths and weaknesses of both sides.
The Starters
Team LeBron
LeBron James, Cleveland Cavaliers
Kevin Durant, Golden State Warriors
Anthony Davis, New Orleans Pelicans
Kyrie Irving, Boston Celtics
DeMarcus Cousins, New Orleans Pelicans**
** denotes selected players who were injured and replaced
Team Stephen
Stephen Curry, Golden State Warriors
James Harden, Houston Rockets
DeMar DeRozan, Toronto Raptors
Giannis Antetokounmpo, Milwaukee Bucks
Joel Embiid, Philadelphia 76ers
While the draft order was intended to remain secret, Durant spilled the beans on his selection as first overall, per The Athletic's Anthony Slater:
Anthony Slater @anthonyVslater

Kevin Durant confirmed he was LeBron's #1 pick today: "What, we gonna keep this a mystery?"
Discerning observers could have sniffed that one out.
Not only was Durant the most talented player on the board, he would have surely reunited with Curry, his Golden State Warriors running mate, had he lasted past the first pick. Durant is also a former All-Star MVP (2012, when he erupted for 36 points and seven rebounds) and owns a career scoring average of 25.0 points (on 52.3 percent shooting) in the event.
Team LeBron's first five boasted terrifying size—only the 6'3″ Irving stands below 6'8″—until a ruptured Achilles tendon forced Cousins out of the action. Team LeBron's coach, Dwane Casey, will now pluck the fifth starter from the reserve pool listed later.
Without knowing that fifth starter, it's impossible to do an apples-to-apples comparison. But here's what we know. Team LeBron's first five boasts two top-five scorers (Davis and James); Team Stephen has three (Antetokounmpo, Curry and Harden, the current scoring leader). Team Stephen also has the two most-active perimeter shooters (Curry and Harden), while Team LeBron's leader is tied for 20th in makes (Durant).
If ball movement is kept to a minimum, that's an advantage for Team LeBron. Its first five features three players in the 80th percentile of isolation finishers (Durant, Irving and Davis). Harden is Team Stephen's only player to make that cut, although his points-per-possession average is the highest of the bunch (1.24).
The Reserves
Team LeBron
LaMarcus Aldridge, San Antonio Spurs
Bradley Beal, Washington Wizards
Goran Dragic, Miami Heat*
Andre Drummond, Detroit Pistons*
Paul George, Oklahoma City Thunder*
Victor Oladipo, Indiana Pacers
Kemba Walker, Charlotte Hornets*
Russell Westbrook, Oklahoma City Thunder
Kevin Love, Cleveland Cavaliers**
Kristaps Porzingis, New York Knicks**
John Wall, Washington Wizards**
* denotes injury replacements
Team Stephen
Jimmy Butler, Minnesota Timberwolves
Draymond Green, Golden State Warriors
Al Horford, Boston Celtics
Damian Lillard, Portland Trail Blazers
Kyle Lowry, Toronto Raptors
Klay Thompson, Golden State Warriors
Karl-Anthony Towns, Minnesota Timberwolves
As Sports Illustrated observed, Team LeBron has quickly become the walking wounded:
Sports Illustrated @SInow

Team LeBron injuries ahead of the ASG:

DeMarcus Cousins
John Wall
Kevin Love
Kristaps Porzingis https://t.co/pMeXF0u6Xt
Cousins was the first to succumb to a season-ending or significant injury on James' side. But the list of players lost has since swollen to include Wall (knee surgery), Love (broken hand) and Porzingis (torn ACL). That's a staggering 25 percent of the initial team.
The health misfortunes might have shifted the balance of power over to Curry's side. While every All-Star—initially selected or plugged in after the fact—deserved the honor, the gap between the Cousins-Wall-Love-Porzingis quartet and the Dragic-Drummond-George-Walker group looks significant.
That said, Team LeBron might still employ the most substantial sub in Westbrook. He's not only the reigning league MVP and undisputed triple-double king, he's proved effective on this stage. His last three All-Star trips yielded scoring totals of 41, 31 and 41 points, two of which resulted in MVP honors (2015 and 2016).
James and Curry broke down their team-building thought processes—without divulging their selection orders—in a chat with TNT's Ernie Johnson:
NBA on TNT @NBAonTNT

"Important to have my teammate alongside me."

@KingJames (#TeamLeBron) and @StephenCurry30 (#TeamStephen) break down their 2018 #NBAAllStar selections. https://t.co/mjFkv0HBTt
Among the reserves, Team LeBron has the top rebounder (Drummond), distributor (Westbrook), shot-blocker (Drummond) and theft (George). But Team Stephen has the top subs in scoring (Lillard) and three-point shooting (Thompson), which could prove more important should this contest look anything like the track meets we've seen in recent years (374 combined points last season, 369 in 2016).
And if familiarity plays a factor, consider that another edge for Team Stephen. Even though James nabbed Durant, Curry still has two other Warriors on his side (Green and Thompson). In addition, Curry has two more teammate pairings on his roster (DeRozan and Lowry, Butler and Towns) compared to just one for James (George and Westbrook).
Unless otherwise indicated, all stats are from Basketball Reference or NBA.com.
Breaking Sports News
via Bleacher Report – Front Page http://ift.tt/yO6Sgr
February 13, 2018 at 06:29AM